Initiative to cover everything from energy saving technology to creating a circular economy
The laundry industry is gearing up to implement a major sustainability drive, working in conjunction with specialist consultancy Grain Sustainability. The initiative was unveiled at the Textile Services Association (TSA) Spring Conference, where members enthusiastically bought into the concept.
With the button pushed, Grain is now undertaking a comprehensive assessment of the laundry industry through research, surveys and interviews, including its suppliers and its customers, with the aim of presenting TSA members with a series of objectives and an ambitious sustainability roadmap.
"We need to understand where we can improve," says Shyju Skariah, director of programmes and projects at the TSA. In fact, the laundry industry already has an enviable record on sustainability. By its nature the service it provides is circular, since it is about reusing textiles and thus avoiding disposable products. In addition, the industry committed to making a 25% reduction in gas and electricity consumption between 2012 and 2021. "It was great to reach that target, but the hard work begins now," says Skariah. "We need to look at new areas, such as investment in highly efficient industrial heat pump systems."
A key area of sustainability will be an increased focus on circularity. "Each year UK industries, such as hospitality, healthcare and manufacturing, source 7,000 tonnes of textiles which are then cleaned and processed by commercial laundries," says Skariah. "We know what happens at 'end of life' to less than half of this volume – not much of which goes for long life recycling. There is still a big gap when it comes to understanding the journey of our textile products. We need to make sure that most of the individual components of these 7,000 tonnes are being reused, recycled or turned into something productive. Cotton for example is an easily recyclable material, however separating zippers and reflective tapes from PPE garments is a much more demanding process. We cannot begin to make any lasting changes until everyone in the value chain is actively involved."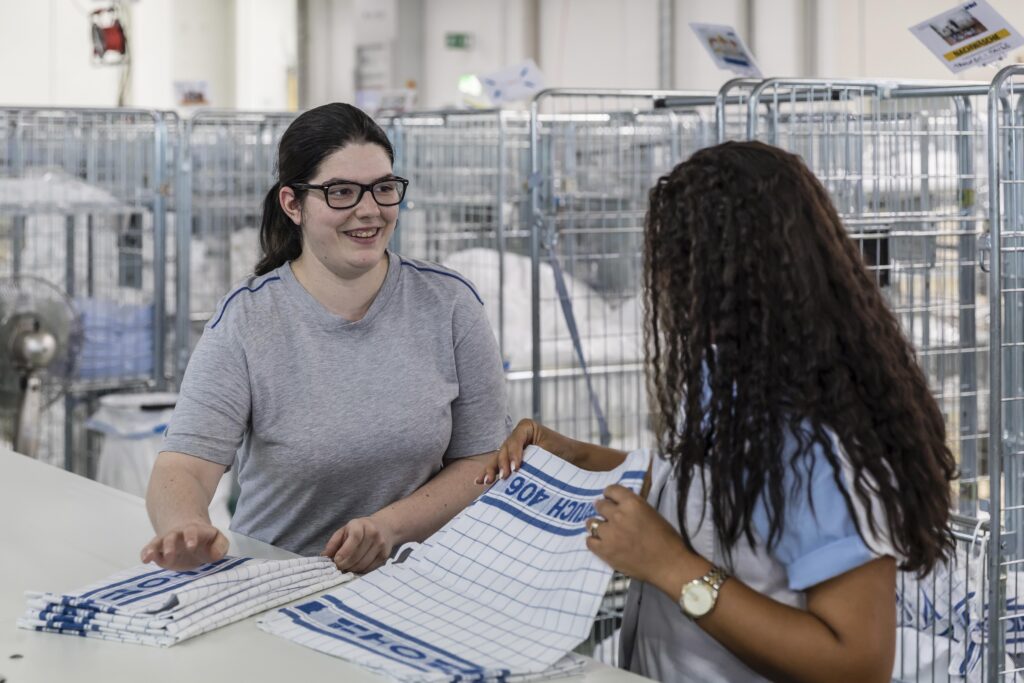 Christoph Geppert heads the Grain team helping the TSA. "Circularity is more than tracking, reusing and recycling," he says. "It means looking at the entire value chain, from growing the cotton and transport to optimising end of life solutions. We have to educate laundries, their suppliers and their customers to understand the complexity of textiles, to de-commoditise them. A single kilo of cotton textile can take thousands of litres of water to make. Meanwhile thousands of tonnes of cotton go to waste every year. That's unsustainable."
Commercial laundries won't be able to realise the circularity vision on their own. Skariah says, "As an example, when sourcing textiles, their longevity and recyclability need to be key specification criteria. We all have to understand the process, and work with our customers and the textile supply chain. If we don't cooperate, we won't make it. "Everybody does it, or it doesn't work."
Working together with the TSA and its members, it will take Grain around six months to complete the initial assessment of the laundry industry, to structure the tailormade approach for the sustainability strategy and to prepare a detailed implementation plan. The implementation plan is laid out over the next years, defining short term, medium term and long term goals. "The sustainability plan will set us on the journey that will make a real difference," says Skariah.
For more information on Grain Sustainability, click here.
If you have any queries, please do not hesitate to get in touch with us either via email or phone: 
T +44 (0) 20 3151 5600