Re-launched scheme will aim to provide employment opportunities in the laundry industry
The Textile Services Association has begun the relaunch of its "Giving People a Second Chance" initiative. This aims to build relationships between the laundry industry and the prison service's New Futures Network (NFN) to build skills and create job opportunities for ex-offenders.
The NFN brokers partnerships between employers and prisons, helping to identify the best ways for organisations to get involved with providing vital work experience for serving prisoners as well as building up numbers of viable employees. With the staff shortages currently facing the textile services industry, the TSA feels that this is a win-win situation for its members and for ex-offenders.
The laundry industry is ideally suited for involvement in these partnerships. Laundry services are a vital part of prison life and form one of the main methods of providing employment and training to serving prisoners. All laundry for prisons is carried out within prisons, and currently about 500 prisoners are employed in this activity across the UK.
The NFN and the prison service offer a number of ways for businesses to get involved. This varies from employing serving prisoners within production facilities in prisons, to employing risk-assessed inmates who have been Released On Temporary License (ROTL) on day release. And finally, helping to arrange interviews with serving offenders in the hopes of offering them full employment upon release.
Rebecca Morgan is the head of HR at Johnson Hotel Linen, a company that has worked with the TSA and the New Futures Network to spearhead this new scheme. She has seen first-hand the benefits to both staff and companies that this scheme can bring. "I went to an employment open day at a local prison, it completely changed my view on offenders and ex-offenders and what they can offer," she says. "Those I spoke to were polite and engaged, and have turned out to be very reliable and motivated employees."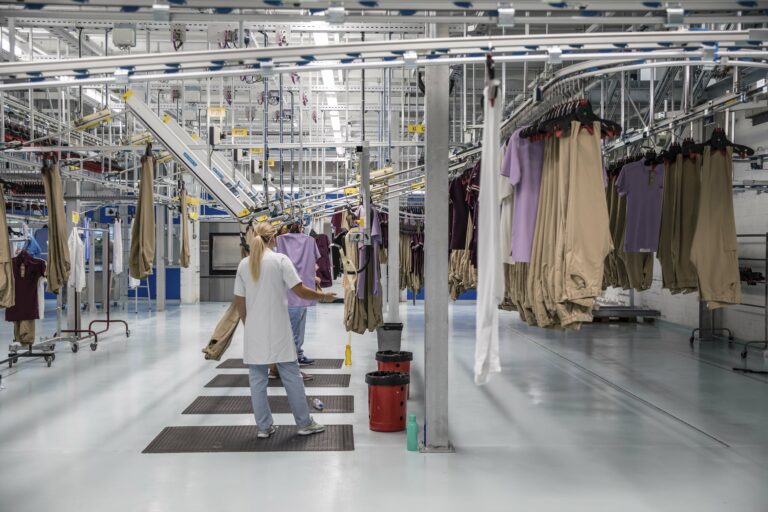 While some companies may be wary about employing ex-offenders, Rebecca is clear that it is no riskier than hiring anyone else. "Everyone on this scheme has been fully vetted, and are all looking for a second chance," she explains. "A lot of the time they believe that there aren't employers out there willing to give them that chance, but I've seen so many success stories come out of it I would recommend it to all laundry companies. It can change lives!" Research from NFN and the Ministry of Justice backs this perspective up, with over 90 percent of businesses that employ ex-offenders agreeing that they are good attenders, motivated, reliable, good at their job and trustworthy.
One of the biggest causes of reoffending is a lack of employment opportunities for ex-offenders. While prisoners can gain a range of qualifications and skills during their sentence, it can be difficult to find work on release, particularly if ex-offenders live in, or move to, a different part of the country from the prison they served in, and they no longer have the benefit of being near local companies that may have employed them on ROTL. Furthermore, the stigma surrounding ex-offenders can also affect job prospects, despite them regaining full employee rights at the end of their sentence.
The TSA hopes that its initiative will help to create opportunities to train potential future employees.  It may also evolve into a national framework for laundries, allowing them to hire ex-offenders in parts of the country without laundry-based schemes operating from local prisons.
Jason Errington, head of operations for industries, in the prison service's rehabilitation and care services group has been co-ordinating the laundry services with the NFN at a number of prisons and is equally enthusiastic about the potential for the scheme. "The people we get into employment generally stay in employment," he says. "Schemes like this are an important part in reducing reoffending and are a great way to fill some of the staff shortages the laundry industry is facing."
"Recruitment is a huge issue facing many industries across the country and it is certainly a challenge we are facing as well," says Emma Andersson, director of finance and membership of the TSA. "We're committed to do everything we can to help our members find the right employees. This initiative will help to do that while also offering a new start to so many people."
The TSA is currently working with the prison service and its members to fine tune the scheme.  The Association plans to host a webinar in the future to share useful information and best practice.
Any laundries interested in learning more about the initiative and the ways they can get involved, including visiting a local prison, should contact Emma Andersson at the TSA.
If you have any queries, please do not hesitate to get in touch with us either via email or phone: 
T +44 (0) 20 3151 5600