TSA members learn first-hand about opportunities to change lives for the better
As part of its "Giving People a Second Chance" initiative, the Textile Services Association (TSA) recently took a group representing some of the biggest laundry companies in the UK to HMP Wymott in Lancashire to see the work being done to create job opportunities for ex-offenders.
The visit was organised in conjunction with the New Futures Network (NFN), a part of the prison service which brokers partnerships between prisons and employers aimed at helping prison leavers to find jobs. The visit aimed to give TSA members an insight into the work carried out by a prison laundry and the procedures involved in supporting ex-offenders becoming employable in the laundry industry both for day release prisoners on Release on Temporary License and those who have completed their sentences.
Attendees were able to meet prisoners currently working in the prison laundry. "It was a very inspiring visit, and helped everyone to break down some of the stigmas about prisoners," says David Stevens, CEO of the TSA. "Hearing about the skills they've learned you can tell they would be a real asset to the industry. They may have made mistakes in the past but you can see the effort they have made to change. It underlines the importance of finding companies that are willing to give them a second chance."
Attendees were also given an overview of the work of the NFN, how it partners with companies to establish a pipeline for recruitment of ex-offenders, ensuring they have the right skills. "The event was a fantastic opportunity for TSA members to see the tremendous work that goes on behind the walls of a prison, and meet the untapped talent gaining experience of the sector," says George Welborn, Senior National Employment Manager for the NFN.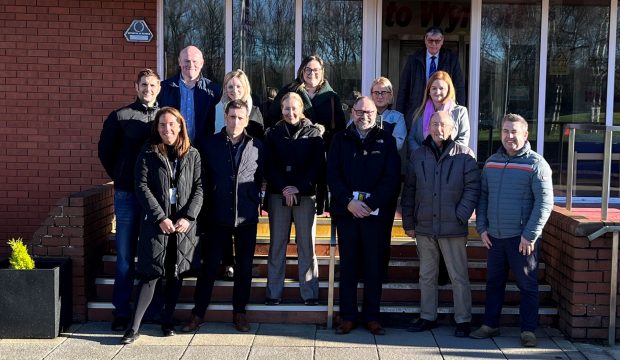 "We learned that giving people opportunities for meaningful employment upon release from prison reduces reoffending," says Matt Bowes, Digital Director at Vision Linens. "This initiative proves there is a talent pool within prisons that would be ideal candidates for roles within our industry."
Following on from this visit, the TSA will continue to build the partnership with the New Futures Network as well as helping to facilitate the scheme for its members. It hopes to be able to schedule another visit later in the year. TSA members that are interested in learning more about the initiative are urged to contact the TSA to find out how they can take part.
"Everyone agreed that it was a very inspiring visit," says David. "Having seen how it can benefit both ex-offenders and companies looking for ways to improve their corporate social responsibility and giving back to the community, we are excited to see more members to become part of this great initiative."
The visit included representatives of companies including Isa Lea, Johnsons Hotel Linen, Johnson Services Group, Johnsons Workwear, KTL Ltd, Vision Linens, and White's Textile Services.
If you have any queries, please do not hesitate to get in touch with us either via email or phone: 
T +44 (0) 20 3151 5600