RESPONSE TO COVID-19 PANDEMIC
The textile services industry has been playing a key role in responding to the Covid-19 pandemic. As an industry that services all sectors from healthcare, hospitality, pharmaceuticals, manufacturing to several more, we have been in varying roles of support for these sectors facing a wide range of challenges. Find out more on how the TSA and its members have been addressing the challenges faced by the industry and its customers. 
REOPENING GUIDANCE FOR HOSPITALITY LAUNDRIES
The latest version (1.1) of this guidance document has been developed in lines with the Government guidelines with the following main underlying principles and translated it into a laundry environment.
Risk Assessment and Management:
The risk assessment for your business should address risks of COVID-19.
Identify the risks your workers face and do everything reasonably practicable to minimise them, recognising you cannot completely eliminate the risk of COVID-19.
A good risk assessment is about identifying sensible measures to control the risks.
Workers should be involved in assessing workplace risks and the development and review of workplace health and safety policies in partnership with the employer.
Careful consideration to people who may be especially vulnerable to COVID-19.
Social Distancing:
Workplaces should make every reasonable effort to comply with the social distancing guidelines set out by the Government. (keeping people two metres apart wherever possible).
Hand Hygiene and Occupational Hygiene:
Increasing the frequency of hand washing and surface cleaning.
Although the scope of this document comprises mostly of health and safety aspects, it overlaps with some commercial and customer elements where appropriate. Additional to this guide, the TSA is also preparing a supplementary resource aimed at re-purposing a hospitality laundry to process healthcare items in line with BS EN 14065 practices and HTM 01-04 (applicable only for the duration of the COVID-19 crisis and would require full certification, post-crisis).
CORONAVIRUS BRIEFING - MANAGING LINEN IN HOTELS AND HOSPITALITY SECTOR
Covid-19 infection is classified as an airborne high consequence infectious disease (HCID). Generally, coronavirus can cause more severe symptoms in people with weakened immune systems, older people, and those with long-term conditions like diabetes, cancer and chronic lung disease.
The TSA have worked closely with UK Hospitality Association to develop a briefing for hospitality industry and for the laundries serving the industry.
NB: While TSA and UKH have made every attempt to ensure the accuracy and reliability of the information contained in this document, the content is for general information purposes only and should not be used as a substitute for consultation with professional advisers. We do not represent, warrant, undertake or guarantee that the use of this document will lead to any particular outcome or result. We shall not be liable to you in respect of any business losses, including without limitation loss of or damage to profits, income, revenue, use, production, anticipated savings, business, contracts, commercial opportunities or goodwill.
We are actively engaging with our membership and all stakeholders to protect and promote the industry during this difficult time. We have been sending frequent updates on our lobbying efforts, technical support, successes and our frustrations with government departments.
To read and access TSA Updates, please visit our news page.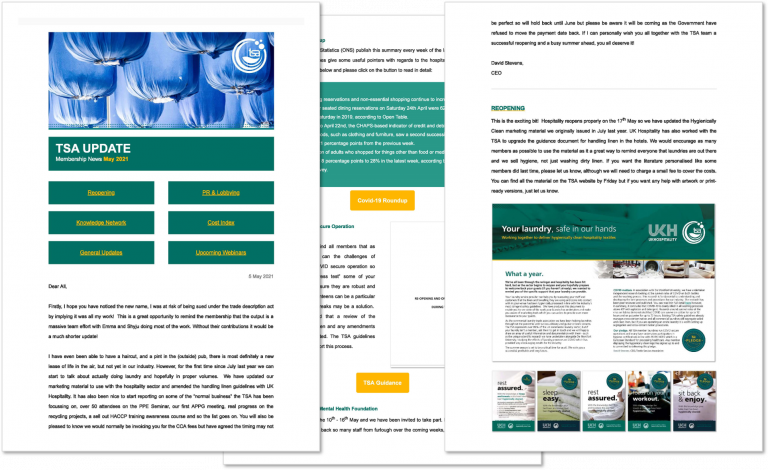 MEMBERS COMMIT TO TSA PLEDGE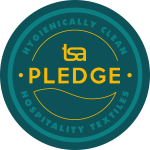 What a year.
We've all been through the wringer and hospitality has been hit hard, but as the sector begins to reopen and you hopefully prepare to welcome back your guests (if you haven't already), we wanted to remind you of the specific support that your laundry can provide.
Your laundry service provider can help you by reassuring your staff and customers that the linen and towelling they are using and come into contact with in your venue has been hygienically processed in line with the industry's most stringent safety guidelines. We have produced the brochure below to enable you to see some of the work your laundry has undertaken and make you aware of marketing tools which you can access to provide even more reassurance to your guests.
Hygienically clean textiles are paramount in what we do and providing a safe, clean environment to protect the health of your guests is more important than ever.
Marketing Support
In association with UK Hospitality we have produced a range of marketing support material to help reassure your staff and your guests that the linen and towelling products they come into contact with are clean and safe for use.
Ranging from printed posters to on screen videos, we have various literature available that can be placed in areas across your business. Contact your laundry for more details. TSA members can access the marketing material below by logging in:
The use of a cabinet roller towel service reduces the risk of spreading of infections in Washrooms. Every household and business in the UK has been advised on measures for restricting the spread of the Coronavirus.  Central to this advice is the need for frequent and correct hand washing as the virus can be readily spread by contact with contaminated surfaces.
Over the years, we have seen reliable evidence of the effectiveness of cabinet roller towels in hygienically providing hand drying solutions to millions of users. Especially, at a time when we are fighting a high consequence air borne disease, it is vital to restrict the spread of infection to the individual, to surrounding objects/surfaces and to other people.
Textile Services Association's Good Practice Guidance on Cabinet Roller Towels is a must-read for those involved in installing, using, laundering and servicing these products. Click below to download.
Cabinet roller towels are the most hygienic and sustainable solution when it comes to design and use for the following main reasons:
The Cabinet Roller Towel system is so designed as to dispense a fresh, hygienically clean/disinfected towel portion on demand and automatically stores the used portion of the towel roll safely away from contact with the next user. 
The positioning of the locked and secure cabinet and the length of towel dispensed means that it is far less open to abuse or contamination from alternative use such as wiping down surfaces, discarding after catching sneezes, etc.
Commercial laundries process the cabinet roller towels as per BS EN13569 (Performance requirements and processing). This standard covers the following key points:
Process validation procedures to ensure that cabinet towels achieve the condition of hygienic cleanliness in processing.
Example specifications for suitable fabric structure to ensure efficient drying of hands by combined wicking and wiping.
Recommendations for the care, use and transportation of cabinet towels after processing
Examples of key process variables to achieve disinfection
The preparation and application of bioindicators for the validation of the laundering process to achieve hygienic cleanliness.
The colour fastness of the towel fabric.
The Textile Services industry also provides an industry Code of Practice with which Cabinet Roller Towel suppliers must comply.
Textiles (porous surfaces) have been proven much more resilient against coronavirus (SARS COV-2) compared to non-porous surfaces such as disposable gowns, paper, plastic etc. (Reference: Lai et al., 2005).
On the other hand,
Warm air driers draw air in from the washroom environment and thus potentially recirculate contaminated or infective air.
Paper towels often get jammed in or fall out of the dispenser and end up in a pile on the vanity surround, resulting in potential cross infection.
Stacks of individual terry towels give the appearance of quality, but they are seldom wrapped or protected from contamination.
The University of Westminster undertook a study comparing Cabinet Roller Towels, Warm air dryers and Paper, from which the general conclusions were:
On average warm air dryers do not perform as well as paper or cotton towels with any of the assessments of hand drying efficiency that were tested, i.e.

speed  (warm air dryers are slower than towels at drying the hands)
drying efficiency  (in normal usage warm air dryers do not dry the hands as well as towels)
hand hygiene  (in normal usage the number of bacteria on the hands is
increased by warm air dryers but reduced by towels)
environmental contamination  (bacteria are emitted in the air flow of warm air dryers)
PLANT PRESERVATION CHECKLIST
Get in touch with us if you have any queries – shyju.skariah@tsa-uk.org