TSA and De Montfort University announce new laundry hygiene protocols.
Laundering textiles plays an important role in maintaining hygienic cleanliness but is particularly sensitive in settings like food production and healthcare. Following a collaborative research project between the Textile Services Association and De Montfort University Leicester (DMU) to establish a hygiene protocol test for laundries, the two organisations have announced the results, with the aim to help guarantee laundry is cleaned hygienically.
The study was run by Professor Katie Laird, a microbiologist at DMU. Professor Laird and her research team have extensive experience in studying healthcare textiles, publishing papers that demonstrated how long bacteria can survive on clothing, and wash processes that can decontaminate laundry, among others.
The primary focus of this research was centred on creating a testing method to determine the ability of any laundry process to disinfect textile items. However, if the project is to be successful, it cannot stop at just the results but must spearhead a major shift in global healthcare laundering.
Currently, a home washing machine used by a ward nurse for their hospital uniform is benchmarked differently from an industrial washing process used for hospital bed linen. The results of this project give us the ability to compare "apples with apples".
However, at the wake of Covid-19 pandemic, the temporary emphasis of the research project switched to determine whether Coronavirus could survive on and be transmitted by textiles before the project team could get back to the main research objectives.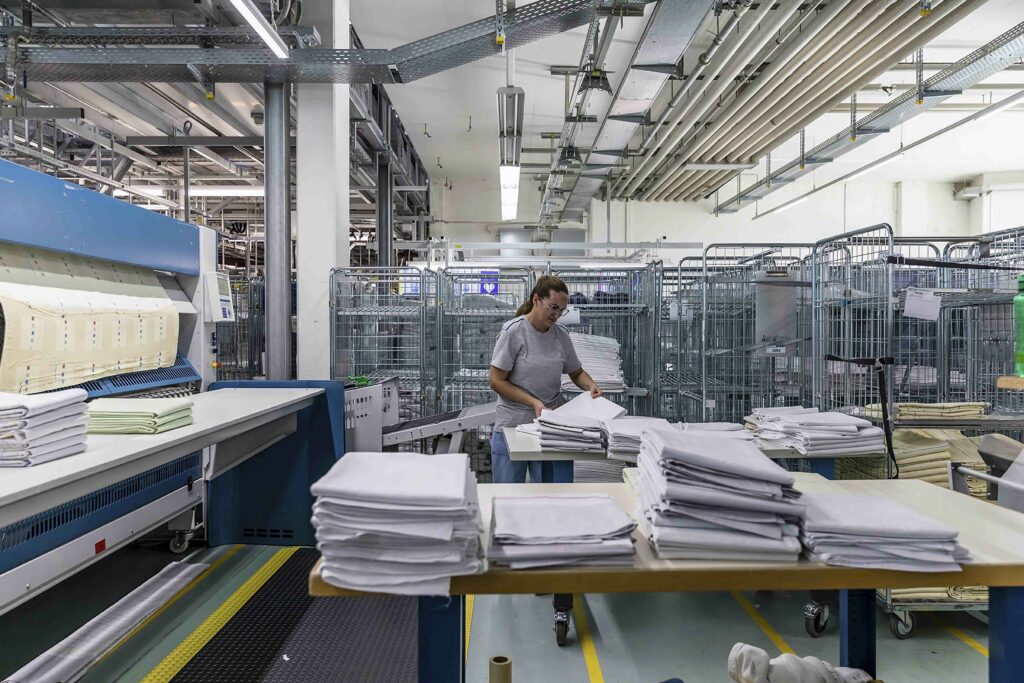 Professor Laird and her team were able to determine that human models of SARS-CoV-2 could survive on textiles for up to 48 hours. The research also inferred that if the laundry was washed at 40°C and above in a typical wash programme, no trace of the virus was being found in the resultant laundry load. This was good news for anyone involved in managing hygiene in textiles. Furthermore it also prevented a pointless increase in the industry's carbon footprint, by making initial demands for 90⁰C washes unnecessary.
Following this the focus of the research returned to developing test protocols for all laundry processes over 60⁰C, ensuring that bacteria and viruses are being killed by the wash process. The resulting protocol is now being proposed for adoption by laundries that clean textiles for hospitals. Meanwhile, TSA and DMU will be continuing their collaboration to understand the needs of other healthcare-related sectors, such as care homes to help improve standards.
"As many members of the TSA provide laundry services for the healthcare sector it is vital that we support them to ensure they are attaining the highest possible standards," says David Stevens, chief executive officer of the TSA. "This study has already delivered amazing results and a robust procedure for ensuring laundry safety, and we will continue to support future research." 
Professor Laird is certain about the importance of the collaboration between DMU and the TSA. "We have worked together to create an internationally recognised protocol for standardising the assessment of the decontamination of laundry," she says. "It's important progress for the laundry industry and the next phase of research will be equally exciting for other sectors."
If you have any queries, please do not hesitate to get in touch with us either via email or phone: 
T +44 (0) 20 3151 5600