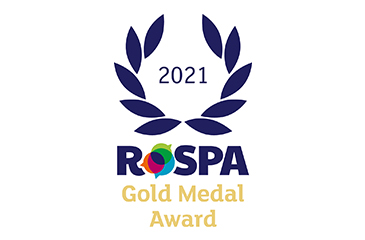 Leading linen and workwear laundry services supplier CLEAN has been awarded its ninth consecutive RoSPA Gold Medal Award for maintaining and improving high standards in health and safety.
The prestigious annual scheme, run by the Royal Society for the Prevention of Accidents (RoSPA), recognises organisations that can demonstrate well-developed occupational health and safety management systems, a culture that is aware of and able to identify potential hazards, outstanding control of risk and very low levels of error, harm and loss.
Matt De La Bertauche, Head of Group Health, Safety and Environment at CLEAN said: "To achieve a RoSPA Gold Medal Award for a ninth year in a row is an incredible achievement.  I am very proud of the health and safety culture we have developed here; it is ingrained in everything we do."
"In the last year we have focused on the continuous improvement of our policies, procedures, and training materials, to ensure everyone throughout the business is working to the same high standards."
Organisations receiving a RoSPA Award are recognised as being world-leaders in health and safety practice. Every year, nearly 2,000 entrants vie to achieve the highest possible accolade in what is the UK's longest-running H&S industry awards.  CLEAN has received their RoSPA Gold Medal Award Health and Safety Award for working hard to ensure colleagues, customers and contractors return home safely to their families at the end of every working day.  The Health and Safety team at CLEAN have built further confidence through standardisation of polices and processes, introduction of a new health and safety management system, and by developing new visually led educational and training materials that can be easily interpreted by a diverse workforce.  Another area of focus has been near miss reporting.  The team have focused on the importance of recognising, reporting, and analysing these events to ensure that preventative measures can be put in place.
Throughout the COVID-19 pandemic, CLEAN has implemented a range of additional COVID-secure measures to enable the company to deliver a high-quality service in a safe manner. Measures include thermally and chemically disinfecting linen, towels and garments during washing, socially distanced delivery processes, sterilisation of laundry cages, vehicle interiors and loading areas before any clean textiles products are loaded and an increase in the level of PPE worn by production operatives and drivers.  Within its laundry sites a huge number of adaptations and changes were made to set up a COVID secure workplaces.
Julia Small, RoSPA's achievements director, said: "The RoSPA Awards scheme is the longest-running of its kind in the UK, but it receives entries from organisations across the globe, making it one of the most sought-after achievement awards for health and safety worldwide.
"RoSPA is very proud of the achievements of its entrants, and with this award we recognise the best of the best.  Those organisations like CLEAN that have gone the extra mile, raising the bar for the delivery of safety in the workplace. Employees, wherever they may be should be able to go to work safe in the knowledge that they will return home unharmed and healthy at the end of every day. Our RoSPA Award winners are central to achieving this goal. By entering they are driving up standards and setting new safety benchmarks for organisations across the world. Currently, around 7million people are directly impacted by the RoSPA Awards, but the scheme's global influence is even wider – with nearly 2000 organisations from 46 countries represented this year."