Green practices will support hospitality industry's net zero carbon objectives (additional press releases published for Industrial & Healthcare)
The Textile Services Association (TSA) is putting together a Sustainability Pact that's designed to support commercial laundries in their drive to deliver a more sustainable future.  The Pact will also support the hospitality industry's net zero carbon objectives, but, as Shyju Skariah, technical services manager at the TSA, points out, "We just don't want to focus on net zero carbon.  We also need to be tackling water quality, reducing waste – this is so much more than a simple net zero tag.'' 
The TSA has set up a Sustainability Steering Group made up of representatives from laundry operators, machinery and textiles manufacturers, and end-users, including representation from UK Hospitality.  The objective for the group is to ensure that an holistic approach is taken, whether it is considering the complex end of life textiles recycling project, which will save millions of tonnes of textiles from landfill, or looking into simple measures, such as using low energy light bulbs. 
"The laundry industry has already come a long way in optimising and fine-tuning its processes and operations in a more sustainable way," says Skariah.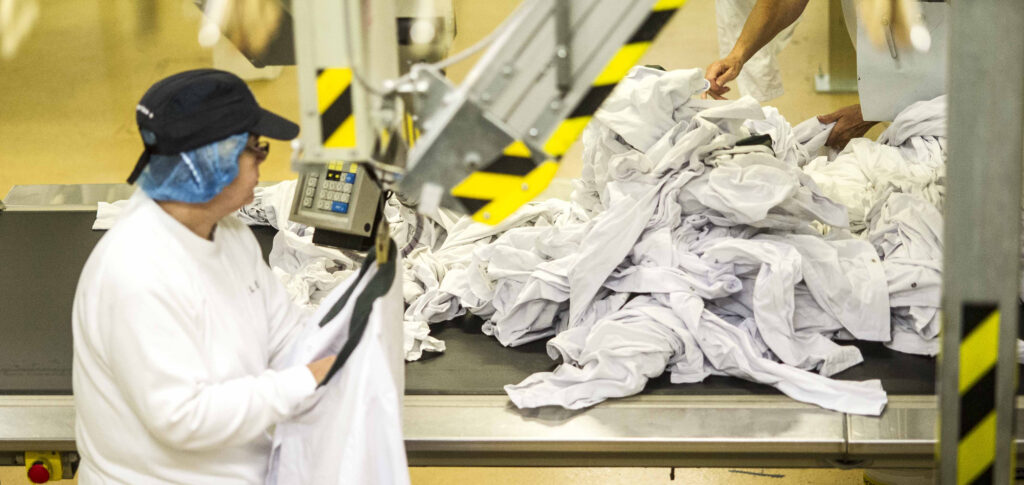 "We have seen water usage slashed, from 20 litres a kilo down to 2 litres, and energy usage halved. But we want to go much further.  Nothing is off agenda with this steering group."
The Steering Group's first task is to set up the initial Sustainability Pact, which the laundry industry will sign up to.  "We'll run training workshops with experts so TSA members really understand what net zero means and how it can be achieved," says Skariah.  "We'll create tools for individual companies to track progress. Each company will set their own roadmap, enabling the TSA to compile an industrywide pathway."
The Pact will be added to as new sustainability ideas and concepts are developed, along with the practical means to initiate them. 
David Stevens is CEO of the TSA.  He says, "Following COP26 and with the climate change issues being addressed at a corporate level, there has never been a better time to set the most challenging sustainability objectives for the UK commercial laundry industry."
The TSA continues to work closely with government bodies to support the delivery of the UK's net zero carbon commitments.  "We believe the laundry industry can surpass the current targets," says Stevens.  "The Sustainability Pact, and the support we are putting in place around it, will be especially useful in helping SME laundry operators achieve their green objectives.
"The Pact shows our industry is driving for a sustainable solution.  It's also a fantastic opportunity to demonstrate the benefits commercial laundries can bring to so many sectors of the economy, particularly around hospitality and healthcare." 
If you have any queries, please do not hesitate to get in touch with us either via email or phone: 
T +44 (0) 20 3151 5600