Steering Groups are our expert community that drive the TSA's efforts in representing the laundry industry. Currently, there are four ongoing expert groups in the areas of Health & Safety, Standards Development, Apprenticeships and Energy Efficiency. 
Scroll down and click on the respective boxes below to find out much more information. 
This Steering Group has been responsible for making several invaluable resources and guidance available for the textile services industry in the UK and worldwide.
Standards help us deliver consistent quality across all our operations. This Steering Group currently monitors and develops the standards that are relevant to the textile services industry.
Textile Care Operative Standard was approved by the Institute for Apprenticeship in 2018. TSA's Trailblazer group leads the way in ensuring that the apprenticeship scheme remains updated and delivered with highest quality training and assessment.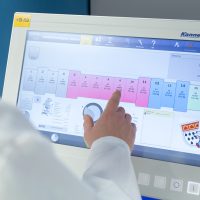 In line with the UK Government's ambitious net zero carbon targets, this group (currently being formed) is exploring ways to keep the textile services industry ahead of the future challenges in energy efficiency.
More details coming soon.